Steve Schmidt, Psy.D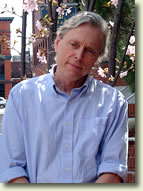 Steve has a doctorate in Psychology from Antioch/New England Graduate School and he has been a licensed Clinical Psychologist in New Hampshire since 1994.
He has been in private practice in Concord, NH since 2001. Steve was previously the clinical director at the counseling centers in Henniker and New London, NH. He began his career in the Department of Child Psychiatry at the Johns Hopkins Hospital, and at the John F. Kennedy Institute, both in Baltimore, MD.
Steve works primarily with adults and adolescents. He specializes in cognitive, interpersonal, and family-systems psychotherapies.
Cognitive psychotherapy emphasizes changing maladaptive ways of thinking as a key factor in reducing stress, anxiety, depression, or resolving parts of our lives where we feel stuck or experience conflict.
Interpersonal psychotherapy emphasizes adjusting ways that we communicate with other people and the expectations we have of others as key factors in helping resolve problems.
Family-systems therapy emphasizes understanding and changing the roles we come to carry and the communications we exchange within our marital and family relationships as key factors in resolving problems within those relationships. Steve works with individuals, couples, and families.
Steve is a member of the American Psychological Association.